Walela: Live In Concert CD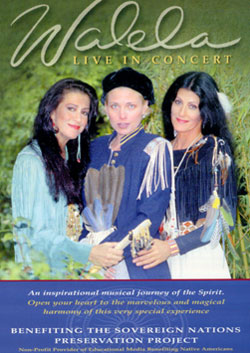 Select CD, DVD or Combo below.
Winner of the Seventh Annual Native American Music Award (NAMMY) for Best Short or Long-Form Video, Walela: Live in Concert is a musical journey of the spirit. Comprised of pop-singer Rita Coolidge, her sister Priscilla Coolidge, and Priscilla's daughter Laura Satterfield, Walela blends gospel, folk, and pop influences into the traditional songs of their Cherokee heritage for a contemporary take on Native American music.
This program captures the trio live in concert in Dallas, Texas, performing songs such as The Gathering of Eagles, Wash Your Spirit Clean, and many more. Recorded at the Dallas Theater Center, Kalita Humphreys Theater, Walela's live performance is a shining example of contemporary Native American vocal music. The vocals are breathtaking, with an ethereal quality as Walela weaves its stories of historical and contemporary Native American life.
Songs Included:
The Gathering of Eagles - 1:00
Cherokee River - 3:57
Cherokee Rose - 3:42
Wash Your Spirit Clean - 4:16
I Have No Indian Name - 3:44
When It Comes - 3:50
Muddy Road - 4:45
When Love Was All We Knew - 5:22
Cherokee Morning Song - 3:41
Wounded Knee - 4:59
Tell Them They Lied - 4:34
God Save Us From Ourselves - 4:58
Program Length: 60 minutes
Production Staff: Producers: Steven R. Heape (Cherokee), Chip Richie (Cherokee) and Gregg Howard (Cherokee/Powhattan)
Production Company: Rich-Heape Films
Format: CD
Released: April 2004

Tags:
Cherokee, music, Walela, Rita Coolidge
Product ID:
WACD-04-H
Video Rights

Email Friend

View Cart