Bridge the Gap to Pine Ridge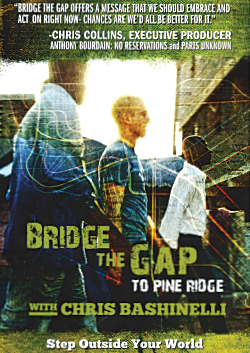 Only 1 Copy Remains!
Join Global Explorer, Chris Bashinelli, on an introspective adventure through the Pine Ridge Indian Reservation. Embark on a life-changing buffalo harvest, get schooled by a women's basketball team, be inspired by a 14-year-old suicide prevention activist, and watch Chris shove his arm shoulder-deep up a cow's backside while trying to better understand employment on the Reservation. With humor and pathos, he uncovers stories of hope and learns how Lakota culture has prevailed in the face of adversity.
Executive Producer/Director: Chris Bashinelli
Co-Executive Producer: Tracey Gudwin
Director of Photography: Jonathan Rivera
Editor: Mustafa Bhagat
Run Time: 56 minutes




Also available at:






Tags: Pine Ridge, Reservation, Lakota, Chris Bashinelli, employment, suicide, culture, buffalo

Product ID: BGPR-13-H

Video Rights



Email Friend


View Cart