Indian Country Diaries: A Seat at the Drum
A Native writer journeys to L.A. to talk with the survivors and descendants of Native families who were part of a federal relocation program in the '50's, '60's and '70's. More »
Program Length: 87 minutes
Production Staff: Executive Producers: Carol Patton Cornsilk (Cherokee) & Frank Blythe (Cherokee/ Dakota)
Production Company: Native American Public Telecommunications (NAPT) & Adanvdo Vision
Format: DVD
The Website for Indian Country Diaries
Additional Resources Viewer Guide
Public Broadcast Release: September 2006




Also available for rent or purchase through: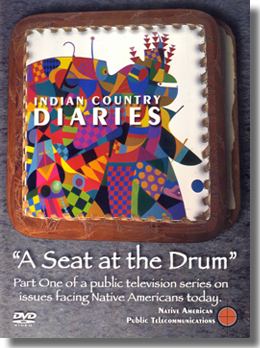 In A Seat at the Drum, journalist Mark Anthony Rolo (Bad River Ojibwe) journeys to L.A., the city that filled his imagination as a child. There he meets many of the thousands of American Indian families who were relocated from poor reservations to the cities in the last half of the 20th century, creating the largest Native American community in the nation -- over 200,000 according to the U.S. Census Bureau.
Tags: historical, culture, preservation, urban, relocation, cities, Los Angeles, L.A.
Product ID: ICD1-06-H

Email Product

View Cart