Tattoo On My Heart, A
This documentary reveals the dramatic and emotional story of the men and women who struggled for survival inside the bunkers and ravines at Wounded Knee. More »
Program Length: 57 minutes
Production Staff:Producers/Directors: Brett Lawlor & Charles Abourezk
Production Company: Badland Films
Format: DVD
Theatrical Release: 2005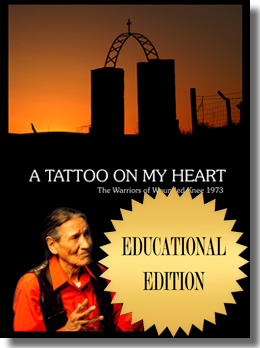 The Siege of Wounded Knee 1973 forever changed the lives of Indian people who took part and captured the imaginations of those who watched this gripping story unfold on television and in newspapers across America. It was the culmination of an awakening that had begun with the formation of the American Indian Movement, the takeover of Alcatraz Island, and the occupation of BIA headquarters in Washington D.C. Nowhere was that awakening more profound, nor reaction by the government greater than around the Pine Ridge Reservation in South Dakota.
Racism and violence against Indians, corruption, and repression of traditional people on the reservations had left many Indians desperate. After the brutal deaths of two Indian men, traditional leaders called upon AIM. Fearing a takeover of tribal headquarters, federal law enforcement, armed with modern weapons and armored personnel carriers moved to protect the tribal government. On February 27, 1973 traditional and AIM leaders chose another location to make a stand--the site of the 1890 massacre at Wounded Knee.
A Tattoo on My Heart: The Warriors of Wounded Knee 1973 tells this dramatic and emotional story in the words of those men and women who struggled for survival inside the bunkers and ravines at Wounded Knee.
Tags: historical, tribal, sovereignty, Lakota, Pine Ridge, Wounded Knee
Product ID: TAT2-05-E

Email Product

View Cart