Playing for the World
In 1902, a unique combination of Native women came together at a boarding school in Montana. They used the new sport of basketball to help them adjust to a rapidly changing world. Their travels and experiences led them to places they never imagined. Ultimately, they played for something much larger than themselves. More »
Program Length: 57 minutes
Production Staff: Narrator, Tantoo Cardinal; Executive Producer, William Marcus; Director, John Twiggs; Co-Producer, Alison Perkins; Writer, John Twiggs; Photographers, John Twiggs, Gus Chambers, Kagan Yochim, Jim Swoboda; Editor, John Twiggs; Graphics, Jeremy White.
Production Company: KUFM-TV/Montana PBS
The Website for Playing for the World
Format: DVD
Public Broadcast Release: November 2009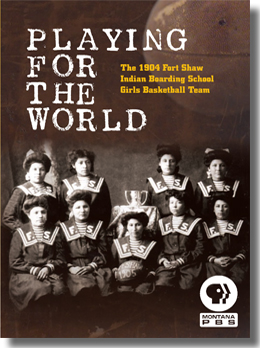 In 1902, a unique combination of Native women came together at a Montana boarding school. They used the new sport of basketball to help adjust to a rapidly changing world. Their travels and experiences led them to places they never imagined.

After winning the state championship, they barnstormed to the St. Louis World's Fair where they defeated all challengers and were declared the "Champions of the World."
Along the way, they handled issues of race and gender with the same grace and skill they displayed on the court. They gained entry into mainstream society, all the while realizing they were always "on display". These were hard lessons learned that they carried for the rest of their lives. Ultimately, they played for something much bigger than themselves.
Tags: Fort Shaw, girls, basketball, civil rights, 1904
Product ID: P4TW-09-H

Email Product

View Cart