Standing Bear's Footsteps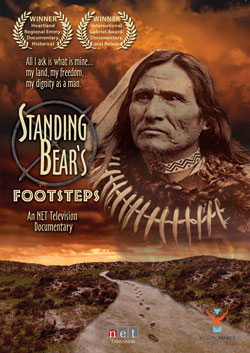 In 1877, the Ponca people were exiled from their Nebraska homeland to Indian Territory in present-day Oklahoma. To honor his dying son's last wish to be buried in his homeland, Chief Standing Bear set off on a grueling, six-hundred-mile journey home. Captured en-route, Standing Bear sued a famous U.S. army general for his freedom--choosing to fight injustice not with weapons, but with words. The Chief stood before the court to prove that an Indian was a person under the law. The story quickly made newspaper headlines--attracting powerful allies, as well as enemies.
This high definition documentary weaves interviews, re-creations and present-day scenes to tell a story about human rights--one that resonates powerfully in the present. "I am a man," Chief Standing Bear said at his trial. "The same God made us both."
Educational Resources: Viewer Discussion Guide; Educational Website
Program Length: 57 minutes
Production Staff: Prodcucer/Director: Christine Lesiak; Associate Producer: Princella Parker (Omaha); Principle Consultant: Judi gaiashkibos (Ponca)
Production Company: NET Television
The Website for Standing Bear's Footsteps
Format: DVD
Public Broadcast Release: November 2011

Tags:
ponca, civil rights, nebraska, oklahoma
Product ID:
SBFS-11-H
Video Rights

Email Friend

View Cart